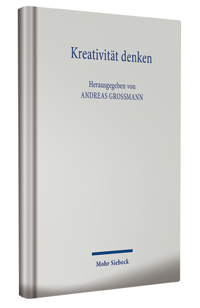 Short films to the publication "Thinking Creativity"
In March 2020, the volume Kreativität denken ("Thinking Creativity") was published by the Tuebingen-based publishing house Mohr Siebeck. That was almost exactly at the beginning of the Corona crisis in Germany. The planned book presentation on 31 March became a victim of Corona.
But we didn't surrender and, in line with Corona, took creative, virtual ways: with three short films focusing on the book's main topics, produced by our student assistants, presented by Robin Dietz, and musically accompanied by Tilman Hoppstock, who would have personally been present at the book presentation with his guitar art.
Creativity is a master in playing hide and seek. It can hide itself so perfectly that even after a long time of searching you can't find a trace of it. And then it suddenly pops up when you have almost given up the obsessive search. FiF follows the traces of creativity. The journey starts in a rocking chair with a glass of wine. Every creative and philosophising person has already drunk wine in a rocking chair, right?
Oh, mankind! You measured everything from intelligence to the most perfect amount of milk for pancakes! It's a beautiful game thinking about what hasn't been measured yet. Do you have any ideas? If betting were a scientific discipline, we would bet that creativity can be neither measured nor planned. But since betting is not scientific, we develop a thesis and ask questions.
Our search continues. This time we are exploring the locations presented by our beloved city of Darmstadt. The streets we walk on and the houses we live in were once only a sketch on paper. But how is this transition from paper to touchable walls made? Time for an eye-opening experience! In any case for us at FiF, because the part that creativity plays in this process is highly controversial: It allows the dialogue between what already exists and what only appears as a possibility in the design. A beautiful passage from one present to another, right?
The musical accompaniment of the well-known Darmstadt guitarist Tilman Hoppstock has given lightness and sense to our adventure. Visit his website to learn more: www.t-hoppstock.de. Many thanks to our presenter and actor Robin Dietz.
Would you like to know more about the secret of creativity? Then we have a suggestion for you: Take a look at the volume Kreativität denken, edited by Andreas Grossmann! You can find more about the book on the following website: www.mohrsiebeck.com.
Events on the topic creativity