Academic Quarter 17.11.2021
With Annette Rudolph-Cleff
2021/11/17 13:15-14:00 by FiF TU Darmstadt
When: 17 November 2021 | Who: Annette Rudolph-Cleff (dept. 15 | Design and urban development) | Location: via ZOOM | Topic: Resilient cities?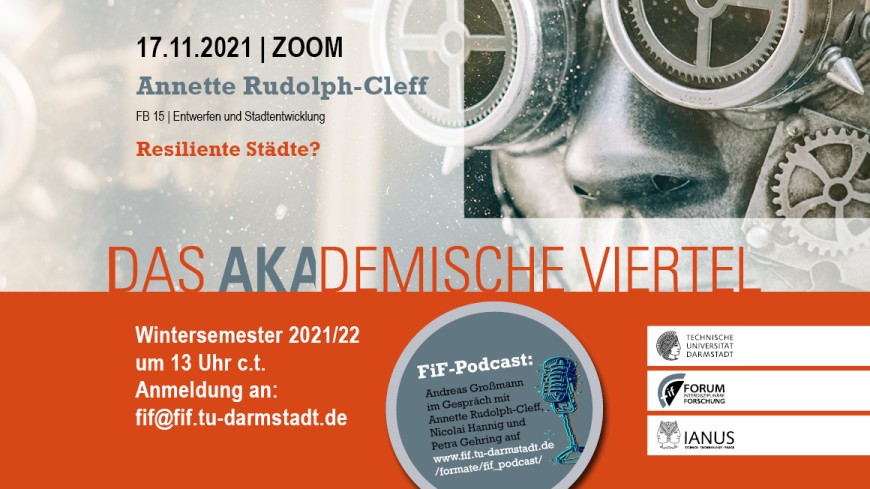 The lunchtime talks, taking place in loose intervals each semester, offer the opportunity to receive insights into the latest research areas from university colleagues in an informal atmosphere. Questions of research policy can also be addressed. The events will be held during winter semester 2021/2022, partly in-person and partly digitally. Please note the respective location information concerning the events.
Events at a glance
17.11.2021: Annette Rudolph-Cleff
(via ZOOM | dept. 15 | Design and urban development)
Resilient cities?
17.11.2021: IANUS Award 2021
(Lichtenberg-Haus | 17- 20 h)
Award ceremony and discussion of the selected works.
8.12.2021: Nicolai Hannig
(via ZOOM | dept. 2 | Modern history)
The terror of nature. Civil protection and prevention in history and present..
2.2.2022: Petra Gehring
(Location still open | dept. 2 | Philosophy | Centre Responsible Digitality)
Research with digital sovereignty? Scientist tracking as a problem.
More information regarding the hygiene concept of the in-person events or the dial-in link to the virtual meetings will be sent to you after your registration via fif@fif.tu-….
Continue to the website of the Academic Quarter.
Due to the Corona crisis, the Academic Quarter has been held digitally since the winter semester 2020/21. As an introduction to the events and topics, you can find a short talk (15 min.) "Andreas Großmann in conversation" on the relevant event dates on our website.