Academic Quarter 25.5.2022
With Samuel Schabel
2022/05/25 13:15-14:00 by FiF TU Darmstadt
When: 25 May 2022 | Who: Samuel Schabel (dept. 16 | Paper Manufacturing and Mechanical Process Engineering | Location: via ZOOM | Topic: Recycling, plastic ban and e-commerce: technical challenges for the paper cycle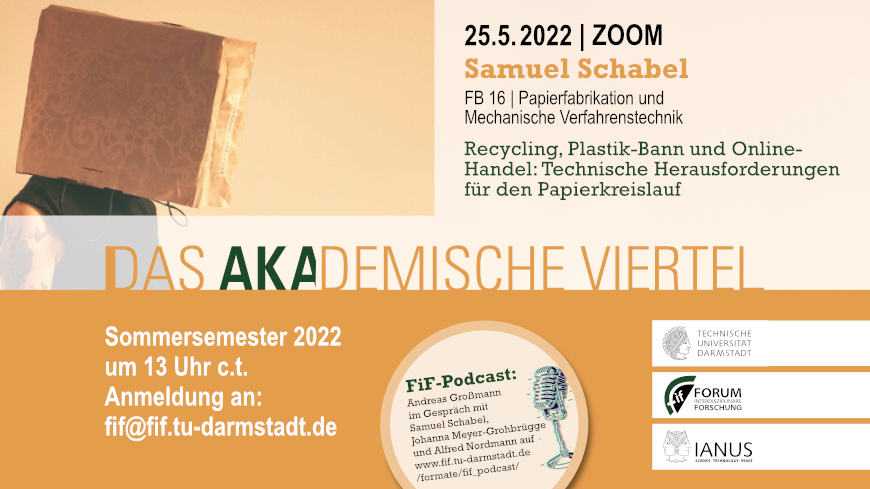 The lunchtime talks, taking place in loose intervals each semester, offer the opportunity to receive insights into the latest research areas from university colleagues in an informal atmosphere. Questions of research policy can also be addressed. In the summer semester 2022, the events will take place both digitally via Zoom and in presence.
Events at a glance
25.5.2022: Samel Schabel
(via ZOOM | dept. 16 | Paper Manufacturing and Mechanical Process Engineering)
Recycling, plastic ban and e-commerce: technical challenges for the paper cycle
15.6.2022: Johanne Meyer-Grohbrügge
(via ZOOM | dept. 15 | Design and Interior Decoration)
Learning spaces of the future.
13.7.2022: Alfred Nordmann
(ULB lecture hall S1|20 UG | dept. 2 | Philosophy)
On the difficulty of philosophising in a responsible way
More information regarding the hygiene concept of the in-person events or the dial-in link to the virtual meetings will be sent to you after your registration via fif@fif.tu-….
Continue to the website of the Academic Quarter .
Due to the Corona crisis, the Academic Quarter has been held digitally since the winter semester 2020/21. As an introduction to the events and topics, you can find a short talk (15 min.) "Andreas Großmann in conversation" on the relevant event dates on our website.